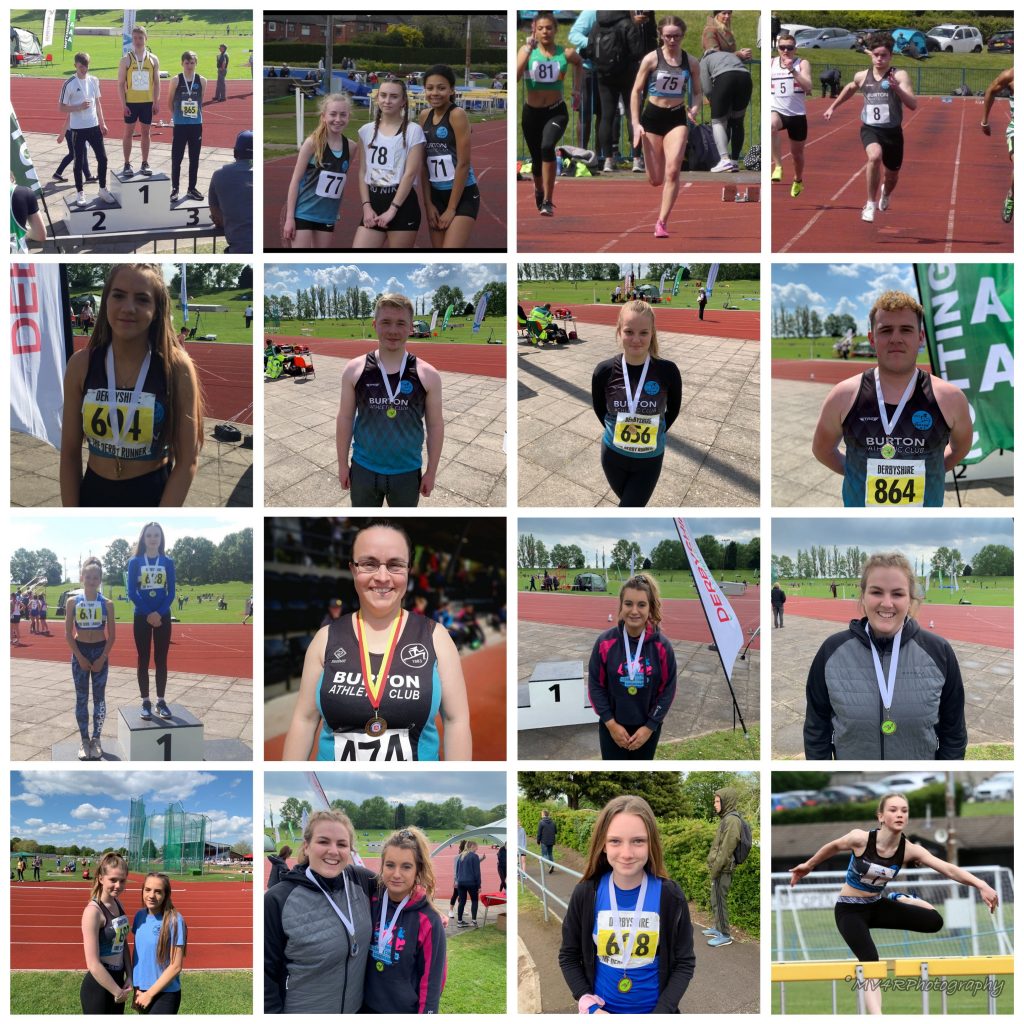 County Championship Report
Burton Ac Athletes had a busy weekend and descended on the various venues for the Annual county athletic championships with Athletes in 4 Different Counties competing.
Over at the Staffordshire championships in Stoke, First up charlotte Jones was crowned county champion in the shot put and taking silver in the javelin with a great performance and a seasons best.
Tom Benfield was crowned County Champion for second year in a row in the pole Vault with a clearance of 3.50m
Freddie Kugelmann in his first year as an u15 took 6th place in the 300m 45.9s a new PB. He also took 7th Place in the 800m with a time of 2.34.5 another PB.
Kaliyah Morant Hudson agonizingly missed out on the medals and took a brilliant 4th Place in the u15g Long Jump with a distance of 4.53m. She also took 5th place in the heats of the 100m
Katie Brant blew away the field in the U13g 70m Hurdles to Equal CBP with a time of 12.2 seconds and was crowned county champion. Katie is ranked number 4 in the country in this event and huge prospect for Burton Ac.
Sam Cross took almost 10 seconds of his 800m time an in the u13b 800m he took the Silver medal with a time of 2.30.2, in the Long jump he took Bronze with a distance of 3.99m.
Caitlin McCarney in her first year in the u13g broke her pb in the 800m and took Bronze with a time of 2.45.1.
Millie Talbot took 6th place in the heats of the u15g 100m with a time of 14.2s, she also 4th Place in the High Jump with a clearance of 1.35m
Cara Mccarney took 8th position in the u15g 100m with a time of 15.7s and in the 75m Hurdles took 5th Place with a time of 15.5s
Paige Barker continued her amazing season and in the u15g 1500m took Silver with a time of 5.22.2
Despite typical 'stoke' conditions Jess Lear extended her hammer Pb going over 34m with 34.57m and taking silver, This puts jess third on the clubs all-time list behind Mia Sherriff and Gemma Holland , Jess also took silver in the discus. Great results for saying the circle was terrible. 
Harry Handsaker was crowned county champion competing in the senior 100m men's race rather than the u20, still blew away the field in a blistering time of 10.9 seconds a new Pb and achieving English school's entry standard. It is only a matter of time before Harry takes the club all-time record set my Keith bullock in 1968 of 10.8 seconds 
Harriet Buxton took bronze in the u20 400m with a time of 65.1s
George Kugelmann 4th u13 100m new Pb , He tool silver in the shot with a Pb and taking the club record from brother Freddie.  
Katie Scott took 5th Place in the u15g 100m with a time of 13.3 seconds with a close race with 1st to 5th being separated by 0.10 of a second
Ailis Macfarlane took silver in the u20 women 800m Final
Max Wrigley produced a unbelievable run in the u15b 800m taking 5 seconds off his Pb with a time of 2.20.5 to take the silver. 
Jack shorten took a fantastic bronze in the u17 men's 800m with a time of 2.10.5s
Rebecca Sheffield took Silver in the u20 100m Hurdles.
Over at the Middlesex County championships, Nicola long was crowned county champion in the hammer with a fantastic result going over 30m
In the Northamptonshire champs Lily mae pursey competed in the shot and the discus and was crowned County Champion In the Discus and Took Silver in the shot.
In the Derbyshire County championships at Moorways in Derby ,  Aimee fellows took bronze in the u20 discus and another fantastic bronze in the hammer and almost a 4m Pb going over 28m for the first time.
Zara Acton was crowned u20 county shot put champion with a distance of 10.21m and then an amazing silver and new Pb in the discus with a distance of 36.12m and English schools' entry standard distance and also extending her own club record.
Lewis botterill was crowned u17 shot putt champion with a brilliant new Pb of 11.61m and edging closer the 12m mark, A mark no male athlete at the club has gone over 12m since the 1990's.
Francesca Sharpe was crowned u17w javelin champion with a throw of 37.46m her 5th county javelin title in a row… her winning distance would have been even greater, but the judge confirmed the EDM was 5m less!!!!!! 
Lolly Blissett produced a huge throw and a massive Pb of 28.26m in the javelin and just finishing outside the medals.
Ben Acton for the second-year running was crowned double u20 county shot and discus champion. Ben represented England Last year in the Shot Putt
Freya Bruno in her first year as an u15, Took the 200m Bronze medal with a new Pb time of 27.89s, Very close to English Schools Entry Standard. She also took 4th in the long jump with 4.39m.
Grace Hedges took a fantastic Bronze medal in the u15g High Jump with a clearance of 1.35m 
Lilly Trueman took 6th Place in the u17w 300m with a time of 49.20 a new PB.
Maisie Trueman in her first year as an u15 athlete. Took 7th Place in the final of the 800m with a time of 2.34.2s. With nearly every athlete a year older than Maisie, She will be back next year looking to be amongst the medals.
Anthony Humphries took the Bronze medal in both the u20M 100m and 200m , both with brilliant new personal best times.
Rachel Burke produced an amazing performance in the u15 hammer being crowned county champion for a second successive year with a huge Pb and distance of 33.55m 12m ahead of second and only 2.5m shy of English schools' qualification. This puts Rachel third on the Clubs all time list in the u15g behind Gemma Holland and Mia Sherriff.
Last but not least, Izzy fellows was crowned u13 shot put champion, u15 discus bronze medalist and waited until the Very last throw of the round be crowned u13 javelin county champion going over 30m and taking the championship best performance… Izzy is now ranked 3RD in the uk and 38th on the uk All time list.
14 county champions, 9 Silver medalists, 10 Bronze Medalists fantastic results  by everyone…. From us all at Burton Ac we are all very proud of you.